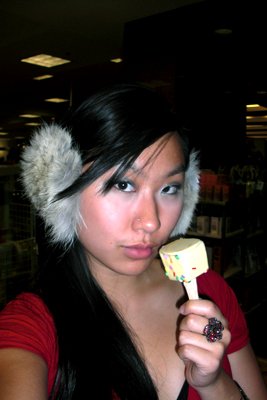 – first you should vote for our girl Sass (pictured) for best new blog in Canada. she made it to the second round and deserves to win. you know she does.
– theres an insane drug war happening in mexico. murders, decapitations, kidnappings – you name it. since january of 2007 there have been 6,285 people killed in mexico over drugs. today the LA Times launches an amazing interactive section called Mexico Under Siege. the "cool kids" here have put together an interactive map, a multimedia gallery, and questions and answers presented in video like youve never seen before. i highly recommend that you all click one of the links to see the hard work and insightful information representing a beautiful blend of traditional and modern journalism presented online.
– LAist has a fascinating collection of videos people made as they heard the sonic booms yesterday
– Change.gov has changed the copyright of their website. it is now has the freest Creative Commons license out there, Lawrence Lessig tells us in his blog.
this weekend there were many blogging and blog-related stories in the news
– Reuters had a story about blogging and Twittering the Mumbai attacks on Thursday
– AP has a similar story, posted today that includes Flickr and leads to this Flickr gallery
– The anonymous blogger named Tanta (aka Doris Dungey) died yesterday and got a nice obit in the New York Times
– In order to help maintain free speech and China and Taiwan get closer, politically, Taiwanese bloggers have united to form the Taiwan Bloggers Association in the wake of some bloggers being arrested for waving Tibetan flags during a visit of a Chinese envoy
– Because Seth Godin can't get his blog in the Technorati Top 10 he suggest that this must mean we are experiencing the "death of the personal blog". Poor guy.
– The Brian Williams Tie Report Archive got a nice write-up in AP, a first for a celebrity tie blog. no word yet what Glenn Greenwald thinks of the blog.